U.S. Naval Academy Events
Get on the Yard
Join in the excitement of watching 4,400+ Midshipmen in formal uniform marching to "Anchors Aweigh," or hundreds of Plebes working together to get to the top of the Herndon Monument. Feel the spirit of the centuries-old rivalry with Army and the countless other sporting spectacles that occur throughout the year. Be moved by the myriad musical and drama performances, as well as some of the crowning events of Midshipmen life — the proud end of Plebe Summer and the celebrations of Commissioning Week. No matter when you visit the Yard, there is something special to see!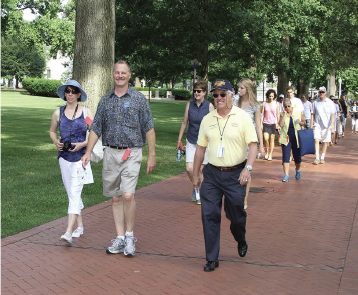 Thursday
11:00 AM
To
12:30 PM
Anchors Aweigh Music Tour & Summer Concert, August 11th
Interested in learning about the USNA's rich musical history? Attend one of our Anchors Aweigh Music Tours!
This tour begins in the Armel-Leftwich Visitor Center Tour Theater where you will learn about the U.S. Naval Academy's rich musical history from legend, Retired Master Chief Dave Hanner. This tour unveils the history behind USNA's beloved "Anchors Aweigh" song, as well as the fascinating history of Charles Zimmerman. The tour concludes with a short walk of the Yard finishing at Zimmerman Bandstand, where you will have the opportunity to take in a free 30-minute concert.
Location: USNA, Armel-Leftwich Visitor Center Theater
Are you a true USNA fan?
Don't miss out! Subscribe to our blog, "On The Yard"