U.S. Naval Academy Events
Get on the Yard
Join in the excitement of watching 4,400+ Midshipmen in formal uniform marching to "Anchors Aweigh," or hundreds of Plebes working together to get to the top of the Herndon Monument. Feel the spirit of the centuries-old rivalry with Army and the countless other sporting spectacles that occur throughout the year. Be moved by the myriad musical and drama performances, as well as some of the crowning events of Midshipmen life — the proud end of Plebe Summer and the celebrations of Commissioning Week. No matter when you visit the Yard, there is something special to see!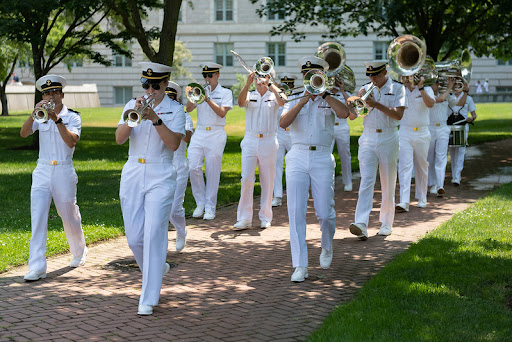 Wednesday
12:20 PM
To
12:55 PM
Commissioning Week Drum & Bugle Corps Concert
The midshipmen-led USNA Drum & Bugle Corps is an ECA at the Naval Academy that hearkens back to 1914. It is the oldest active drum corps in the nation, and an excellent marching music ensemble. Currently, there are 100 midshipmen, spanning all classes and majors, playing instruments you might not expect for a group called the "Drum & Bugle Corps." The current band includes piccolos, flutes, clarinets, alto saxophones, tenor saxophones, trumpets, mellophones, trombones, baritones, tubas, and of course, percussion. They are an impressive group, these four-time champions of the Interservice Academy Drum & Bugle Corps Competition, and they perform over 200 times a year in support of the Brigade of Midshipmen and Navy athletics under the direction of Dr. Matthew Halligan, with Mr. Justin Miller serving as the Brass Caption Head and Mr. Zachary Scudlark serving as the Woodwind Caption Head.
Admission: Free
Location: USNA, Radford Terrace
Are you a true USNA fan?
Don't miss out! Subscribe to our blog, "On The Yard"