The path to becoming a member of the esteemed U.S. Marine Corps runs through Motezuma. It runs through Tripoli. It runs through all the sacred places where Marines have made an impact throughout their almost 250-year old history. Many of the impressive Marine Corps officers start that path right here, at the U.S. Naval Academy, where about 30 percent of the graduating class is commissioned as second lieutenants in the Marine Corps each year. This is one of the ways Marines ensure they get "the best of the best." Here is the journey they must make.

The Beginning
While many midshipmen arrive at the Academy with the sure knowledge they will pursue the path to becoming a Marine Corps officer, there are still others that make this decision while they are here at USNA. Either way, they must choose this path during their first three years here. Midshipmen interested in a U.S. Marine Corps career start to make it official during their second class (junior) year. Candidates will need to meet requirements in these evaluations to successfully commission as an officer:
Leatherneck/Marine Air - Ground Task Force (MAGTF) evaluation

Company mentor recommendation

Leadership potential demonstrated during Leatherneck/MAGTF, AcYear or Plebe Summer billet or varsity sport

USMC Physical Evaluations: Physical Fitness Test, Combat Fitness Test, Obstacle Course, Endurance Course, Height/Weight standards

Academic Quality Point Rating ( QPR)

Military QPR

Conduct Standards

Honor Standards
Fulfilling these requirements is the first step. The Marine Corps also closely monitors intention. Those with a strong desire and commitment to becoming a Marine Corps officer are especially coveted. The Company USMC mentors will consider their involvement with Leatherneck/MAGTF and other USMC events, as well as the candidate's relationship with their company mentor. These additional qualifications are vitally important in assessing what makes a strong Marine.
RELATED: Celebrate the U.S. Navy and U.S. Marine Corps' 247th Birthday!
Marine Corps Officer Training Opportunities
Marine Corps hopefuls gain critical knowledge about the rigors of serving in this distinguished branch by spending parts of their summers during the Academy in various Marine Corps officer training programs:
Professional Training of Midshipmen (PROTRAMID): This training is offered to 3rd Class midshipmen the summer before their sophomore (3rd Class) year. The program showcases the variety of roles junior Marine Corps officers in the Fleet Marine Forces can acquire. Midshipmen receive ground training in Marine Corps weapons and equipment, work with Marines of all ranks in both field and garrison environments and are immersed in USMC-related activities. They will learn the basic theory and fundamentals of the MAGTF.

The following is a sampling of some of the challenging educational activities they might encounter during PROTRAMID:
Weapons Handling

Indoor Simulated Marksmanship Trainer

Fire Team and Squad Tactics, Techniques and Procedures

Fixed-Wing Static Display

Rotary-Wing Static Display

Air Traffic Control Tower and Radar Room Tour

Marine Corps Recruiting Depot Museum Tour

Marine Corps Recruiting Depot Recruit Processing Brief

Amphibious Assault Vehicle Rides and Static Display

V-22 Osprey Rides

CH-53 Helicopter Rides

Military Operations in Urban Terrain Training

Night Vision Goggle Training

Artillery Static Display

Marine Special Operations Command Brief
Marine Air-Ground Task Force (MAGTF) Summer Training Program: This is offered instead of a midshipman's annual PME training requirement. There are two sessions that each last two weeks, and midshipmen become immersed with a unit of the Marine Corps' operating forces for each session. This evaluation has two parts: Phase One is called the "Screener," and it is given at the Academy after final exams. Prospective Marine Corps officers will push themselves to the limit after completing their academic tests, with physically robust physical fitness tests and a series of leadership exercises.
Phase Two physically deploys midshipmen to an Operational Force (OPFOR) within a Marine Expeditionary Force (MEF) or Marine Special Operations Battalion (MSOB). This four-week deployment phase is an invaluable chance for them to be integrated into the Marine Corps, since they are sponsored by company grade Marine Corps officers. They'll work alongside their sponsors and help execute the duties and responsibilities typical for a newly commissioned company grade officer.
Leatherneck: The most extensive of all training and the primary form of evaluation for prospective Marine Corps company grade officers, Leatherneck places candidates in hot and muggy Quantico, Virginia, for four weeks during their 1st class (prior to senior year) summer. The mission? "To train, evaluate, advise and mentor 1st Class midshipmen considering a career in the United States Marine Corps." This group is mentally, morally and physically put to the test through a series of difficult evaluations that ultimately build the camaraderie and esprit de corps for which the U.S. Marine Corps is known.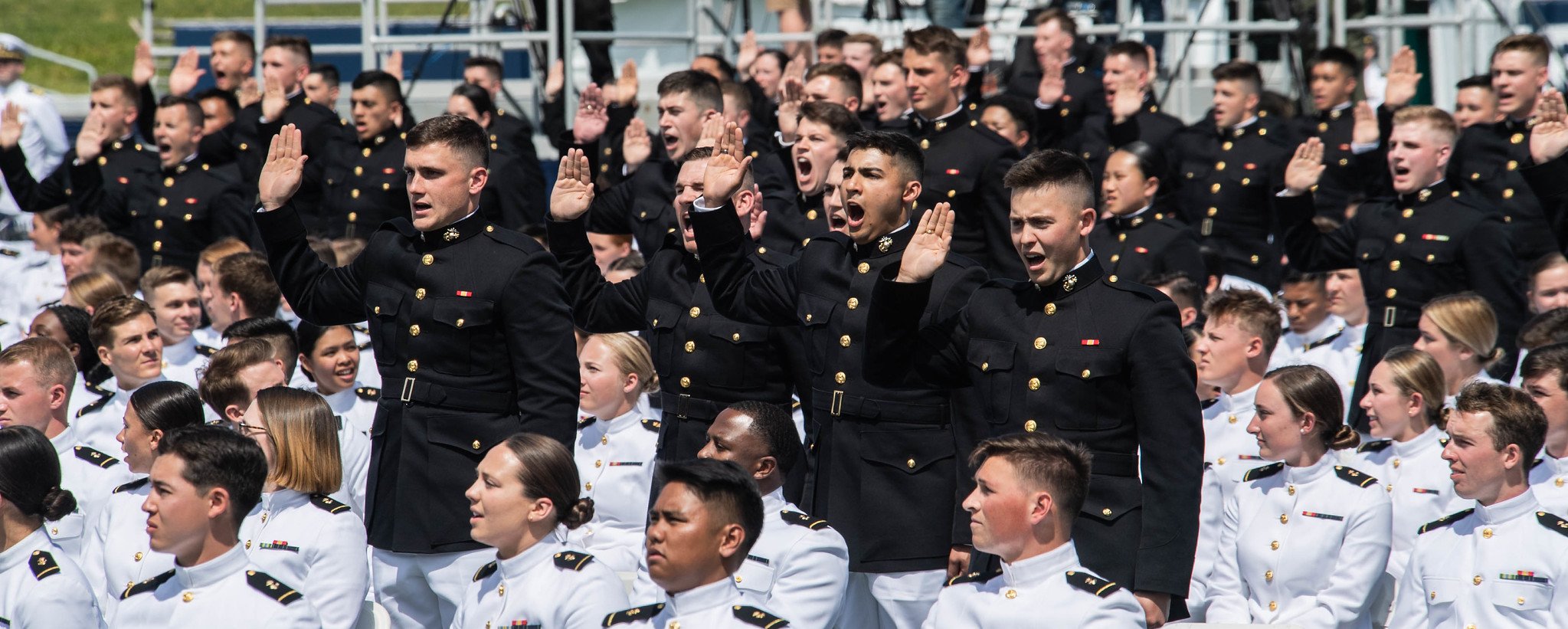 Candidates are assessed across a variety of different skill sets, including physical training, leadership and military. The Physical Fitness Test, Combat Fitness Test, Obstacle Course and Endurance Course test physical strength. To build military prowess, candidates must learn land navigation, combat orders, offensive combat tactics and basic weapons familiarization. They participate in field exercises spanning several days, which are capped by a scenario in which each midshipman must lead their squad attack on an objective. To grow their leadership skills, midshipmen receive tutoring in counseling and evaluating subordinate Marines and developing productive relationships with staff Non-Commissioned Officers (NCOs). Leatherneck is famously hard, and not everyone will make the cut.
Related: Oohrah!
Annual Training Opportunities
The Marine Special Opportunities Training (MARSOT Screener): This is another evaluation tool. It's administered during the fall and spring semesters and includes a number of selective training evolutions. The screener is a half day evolution emphasizing squad-sized movements under load, physical strength and endurance tests, timed runs through both the obstacle and endurance courses and M-4 service rifle marksmanship. Midshipmen that qualify for the screener may then be selected to attend one of the USMC training schools.
Support Our Marines
After USNA graduation, second lieutenants head to the 26-week Basic School at Quantico, Virginia, where they acquire general knowledge about the tactical study of land warfare. Then they report for advanced training focused on their particular specialty in the Marine Corps. Once a midshipman has excelled at this path they have earned the right to be a part of the world's finest fighting organization: The Few. The Proud. The Marines. While their journey is just beginning, they tread the well-worn path of those who have selflessly served before them, and those that continue to serve now.
We are extremely proud to be a part of the exceptional training program that readies our Marines for duty. We support them every day in their studies, physical training and moral preparations. You can help too. NABSD uses the proceeds from all USNA tours, dining and shopping to fund a variety of extracurricular activities such as cultural arts, theater, music, club sports and more. You can be a part of the path to becoming a Marine Corps Officer with your support. It all starts here.