Fuel Up for an
Unforgettable Day on the Yard
From grab-and-go goodies at a coffee bar in a historic gate house — to lunch with fresh and tasty foods in the Drydock — to a fine dining experience at the the Alley Restaurant, your meal will be a memorable one. Remember, that 100% of the proceeds from your purchase go to fund the Brigade of Midshipmen.
1845 Coffee
Start your day off right or grab a midday pick-me-up at one of our 1845 Coffee locations. Take a break from your Yard explorations at 1845 Coffee with a modern day coffee shop experience steeped in rich Naval Academy history.
Grab a coffee, pastry, quick snack or to-go lunch to fuel up for a fun day walking the Yard!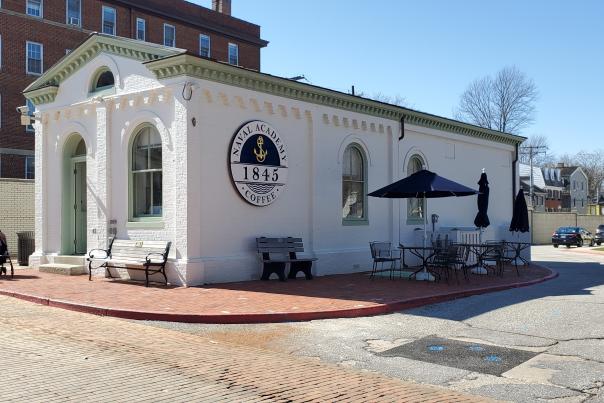 Drydock Restaurant
You can enjoy lunch or dinner at one of the favorite midshipmen hangouts - the legendary Dahlgren Hall. Feast on a choice of sandwiches, burgers, and best-in-town pizza. Don't forget the fries! Drydock provides the perfect setting to rest, recap the morning adventures, and plan for the rest of your adventures on the Yard.
The Alley
Nestled in the gorgeous lower level of the Naval Academy Club, the Alley serves exquisite fine dining and affordable and delicious lunches for the public. Open to members only in the evening, we welcome visitors during lunch to experience the local, fresh dishes created by our executive chef. The delicious meals will make you wonder that you are dining in a former bowling alley!