It was the summer of 2012 on a random Wednesday, and Towson sophomore Christina Antonini was waitressing at the Red Robin at the Annapolis Mall. She picked up the receipt from a recent table to find a note that said "I'm in the Georgetown t-shirt" with a phone number—and a $30 tip. She was dating someone at the time, but her grandmother said, "You'd better call him." She had been telling Christina and her sister for years to meet a midshipman….
Six and a half years later they were married—at the USNA Main Chapel! Here's their story, told by Christina:

What's your husband's name and when did he propose?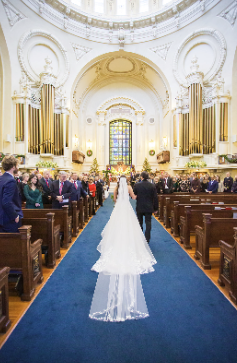 Andrew Rice, but I call him Andy. Andy proposed on December 7th 2018. We flew into Annapolis from Oklahoma where he was
stationed to stay with my parents for a night before heading up to Philadelphia for the 2018 Army-Navy game. But first he wanted to stop at his favorite bakery "Bakers and Co." and also go to the MidStore on the Yard to get more Navy gear. (Even though he has everything you could think of that is Navy!) We had to leave early in order to make it to Philadelphia on time, but we didn't head straight to the store. Instead, we walked the sea wall towards Triton Light.
At the light, Andy turned to me and said, "We aren't going to have Christmas together since I'll be on deployment, so I have an early Christmas present for you." He pulled out a leather bound book with pictures from our time together, complete with dates. He said, "Flip to the back." It was that date: "December, 7th, 2018," with a question mark. Then he was kneeling and proposing and I was hugging him and jumping up and down! We went to the MidStore after that and spent three hours there.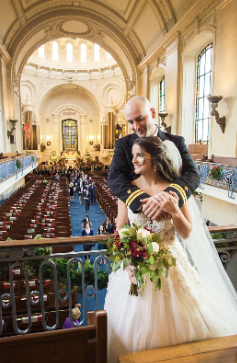 When did you start planning your wedding at the Naval Academy?
When we got home, my Mom asked if I had called the Naval Academy Chapel. We started planning immediately since the Chapel books so quickly.
What's your wedding date and time? What was your favorite part about getting married on the Yard?
Our wedding was on December 21, 2019 at 3:00 p.m. We were the last couple to get married that day, and my favorite part about getting married on the Yard was being a part of the history. The Chapel was beautiful and I was thrilled to be part of such a long-standing tradition. I was proud and honored to get married there, and to my husband. I grew up in Annapolis so this was really special. Another part that I loved was all the Christmas décor that was already in the Chapel at the time of our Christmas wedding. I wasn't allowed to set up flowers and I didn't need to!
Do you have any stories about the day?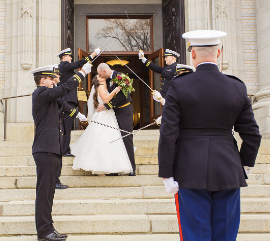 Well, we chose the coldest and shortest day of the year by mistake, but it ended up being perfect. I also saw one of my old teachers from middle school that day, and it was a happy surprise. It turned out she was now working at the Chapel and immediately recognized me. She helped all of my wedding party get in the proper positions and move at the right time. It was amazing seeing her again.
One really funny moment—as we exited the sword arch the best man's sword got stuck in my veil or dress and I got dragged back and almost fell over. Quite a memorable moment!
Did you take photos in front of the USNA Chapel or anywhere else on the Yard?
Yes, we took pictures in front of the Chapel during the sword arch. We also took pictures in front of the large Christmas tree set up at Dahlgren Hall, in Memorial Hall and in the Bancroft Hall Rotunda.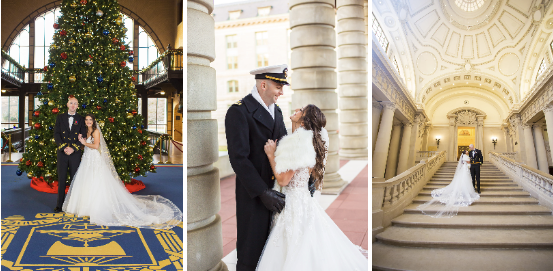 What words of advice do you have for couples considering getting married on the Yard?
Make sure you have approved buses to take your guests to the Yard because security is tight. Wear comfortable shoes since you'll be walking a bit across the Yard. Be organized. Don't be late because they start on the dot.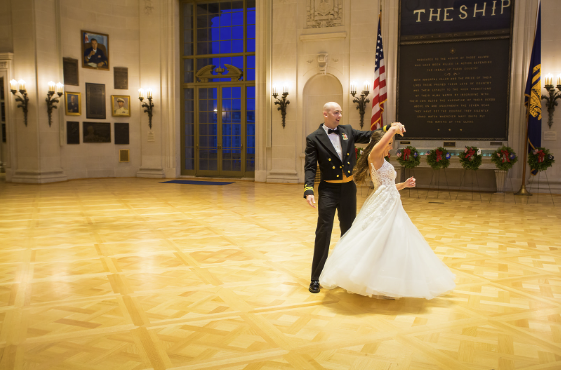 Andy is currently a lieutenant in the the Navy, and Christina works as a nurse in the pediatric ICU. They look fondly on their wedding memories and are glad that they got to marry on the Yard.
Thank you, Christina! We wish you and Andy a lifetime of happiness. We're thrilled that you started it here with us on the Yard.
Are you hoping to plan your dream wedding on the Yard? We are here to help make that happen! Reach out to Brenda Stone, the Senior Catering, Events and Weddings Manager for NABSD, at bstone@usna.edu to start planning. In the meantime, you can use our free wedding guide to get started. We look forward to helping you start your story here! And remember, that when you get married on the Yard, you're supporting the Brigade of Midshipmen as a portion of all proceeds from NABSD approved wedding vendors go directly back to the midshipmen.