With back-to-school season in full swing, it's the perfect time to send some Navy love to the midshipmen, alumni and Naval Academy fans in your life. The U.S. Naval Academy Gift Shop and Navyonline.com have what you need for every gift, from the latest REAL Navy apparel, to unique souvenirs you won't find anywhere else. Your purchase here gives back to the Brigade of Midshipmen, since it helps fund their extracurricular clubs and activities.
Adult Apparel
Some of the best Go Navy gear is wearable. From sweatshirts to pants to shorts to shirts, the USNA Gift Shop and Navyonline.com have tons of new and exclusive spirit wear. They're always a welcomed gift for a Navy fan who wants to show off their navy blue and gold.

T-Shirt: This N*/Beat Army Tri-Blend T-Shirt in Navy comes in every size to suit your Navy fan. With a soft-as-butter tri-blend, it may easily become their favorite shirt. The "Go Navy Beat Army" drum beat has the gold N* stamp on top, a great nod to the strength of USNA. They'll love wearing it for workouts, on the Yard, off the Yard and wherever they want to show their support for the Brigade of Midshipmen and their treasured Navy traditions. Go Navy! Beat Army!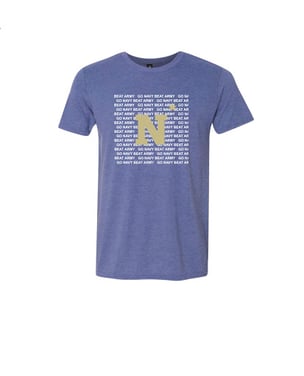 Class of 2027 Name Tee: The plebes just completed their first big milestone of their Academy journey. Commemorate Plebe Summer and all their journeys to come with this gray cotton Class of 2027 Name tee. Listing the entire 1,000 member class, this shirt is a wonderful keepsake and the perfect reminder of the teamwork that goes into being a midshipman at the Academy.

Tamiami Shirt: This men's short sleeve tamiami shirt, in white cap or sorbet, is a great choice for USNA alumni as well as current midshipmen and Navy fans. Whether they take it on the water or to the docks, its wicking, sun-shielding fabric makes it a sailor's dream. With mesh-lined back vents to provide air circulation on the muggiest days, it also features a rold holder on the chest and plenty of low-profile pockets to stash their gear. The omni-shade UPF 40 and antimicrobial treatment keep them protected, and the crisp Navy* look is just right. Pick one up for yourself too. These lightweight shirts are heavy hitters for fishing and any outdoor
sports.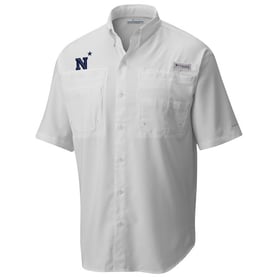 Kids Apparel
It's never too early to start dressing your littlest Navy fans in their favorite colors. From onesies to shorts, shirts and hats, there are lots of options for every situation.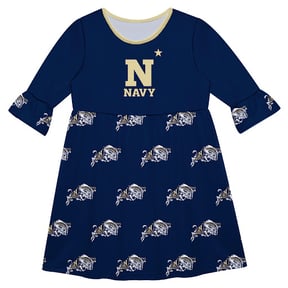 Toddler Dress: If you're heading back for reunions this fall and bringing your mini Navy fan, check out this toddler ruffle sleeve dress with sweet sleeves and a trimmed collar, an adorable homage to USNA. With Bill the Charging Goat and an N* on a navy blue background, it's sure to show her spirit. The wicking material will keep her comfortable, and the sublimated design resists cracking. Available in sizes ranging from 2T to 5T so she can find her perfect fit. She'll love showing her Go Navy style!

Toddler Outfit: The Cutie to the Corps toddler set is a bright and fun way to support the U.S. Marine Corps. It's another great way to show off your future prospects with style. Available in sizes 2T to 4T, she'll love the hi-lo shirt and fun imagery. She'll also adore the pink bow leggings that complete the set.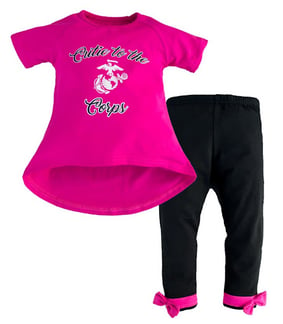 Infant Romper: For your future Navy fans and midshipmen, these incredibly soft and warm infant fleece rompers are a welcome treat. In sizes from zero to three months through six to nine months, they come in both navy blue and pink, with Bill the Goat to up the cute factor. Soft as wool, the rompers are equipped with mitten flaps to protect from scratches and keep them toasty. This is a great baby gift for someone welcoming their newest Navy fan.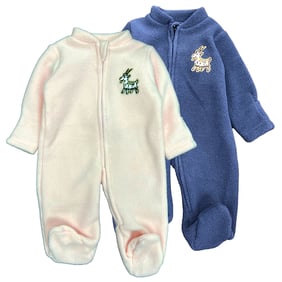 Accessories for All
Now that you've got the basics down, don't forget to accessorize. Navyonline.com has jewelry, scrunchies, scarves and more. These useful and stylish items make great gifts too. Here are more ideas: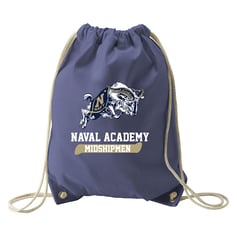 Back Sack: If you're looking for a practical gift for someone who likes to travel light, the midshipmen drawstring back sack delivers. Constructed with lightweight cotton and printed with a charging Bill the Goat, it can transport gym gear, sports equipment, overnight clothing and whatever they'd like. When not in use, it's easy to fold up and slip into another bag for easy carrying.

Bucket Hat: If you're looking for a unique Navy gift, the Naval Academy bucket hat is a top choice. Classic twill navy fabric is accentuated by the embroidered N* with Naval Academy EST 1845. This unstructured hat goes with just about everything, and will have everyone asking "where did you get that?"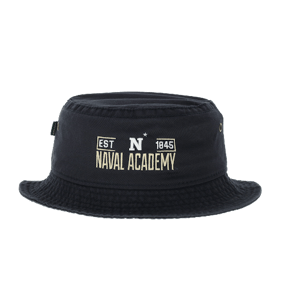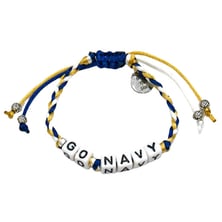 Bracelet: If you're looking to show your spirit at the stadium, the grocery store, or anywhere else around town, this Go Navy team spirit bracelet will knock it out of the park. Unisex and made for all ages, it's a fun and simple way to remind them of their loyalties and tell the world too. Navy pride complements every style, whether they tuck it under a sleeve or let it dangle. This is a great way to your favorite Navy fans anytime.


Find More Fun
At Navyonline.com, we have apparel, souvenirs, gear and more for everyone. We're constantly adding new items so we can continue to deliver exactly what you're looking for. Check out the site for birthday gifts, anniversaries, football season or just because. You're bound to find something uniquely Navy they'll love. The Naval Academy Business Services Division supports the Brigade of Midshipmen by donating proceeds from our 20 business units that allow our midshipmen to be successful, well rounded future leaders. We support a variety of extracurricular activities such as cultural arts, theater, music, club sports, and a variety of other activities. Since every bit goes back to the midshipmen, you'll find you love shopping here too!