"Into the Woods will ply us with a quartet of the greatest stage musical numbers in Sondheim's unrivaled catalog…." writes Greg Evans in Deadline's "Into the Woods-" Broadway Review: Treats Galore in a Magical Production." This iconic musical, having received countless accolades in its first and second Broadway runs and as well as a recent return to the stage, is a modern classic—a thought-provoking and nuanced musical with music and lyrics created by a legend. This is just one of the reasons Into the Woods was chosen to be USNA's winter musical this year.
The Making of the Musical at USNA
On February 24th, 25th and 26th, get ready to be transported to the mixed up fairy tale land where playing nice does not always equal being good, and happy endings are not guaranteed.
USNA Director of Musical Activities, Dr. Aaron Smith, Music Director, Monte Maxwell, and Arts and Production Assistant, Brian Hissong, had been hoping to produce Into the Woods for some time, and when Stephen Sondheim passed away last year, they felt compelled to honor "one of the greatest composers in history," notes Hissong. The show also fit nicely into their repertoire. "We try to choose shows that will both challenge and compliment the midshipmen's talents. We also try to choose a variety of shows from year-to-year," he explains.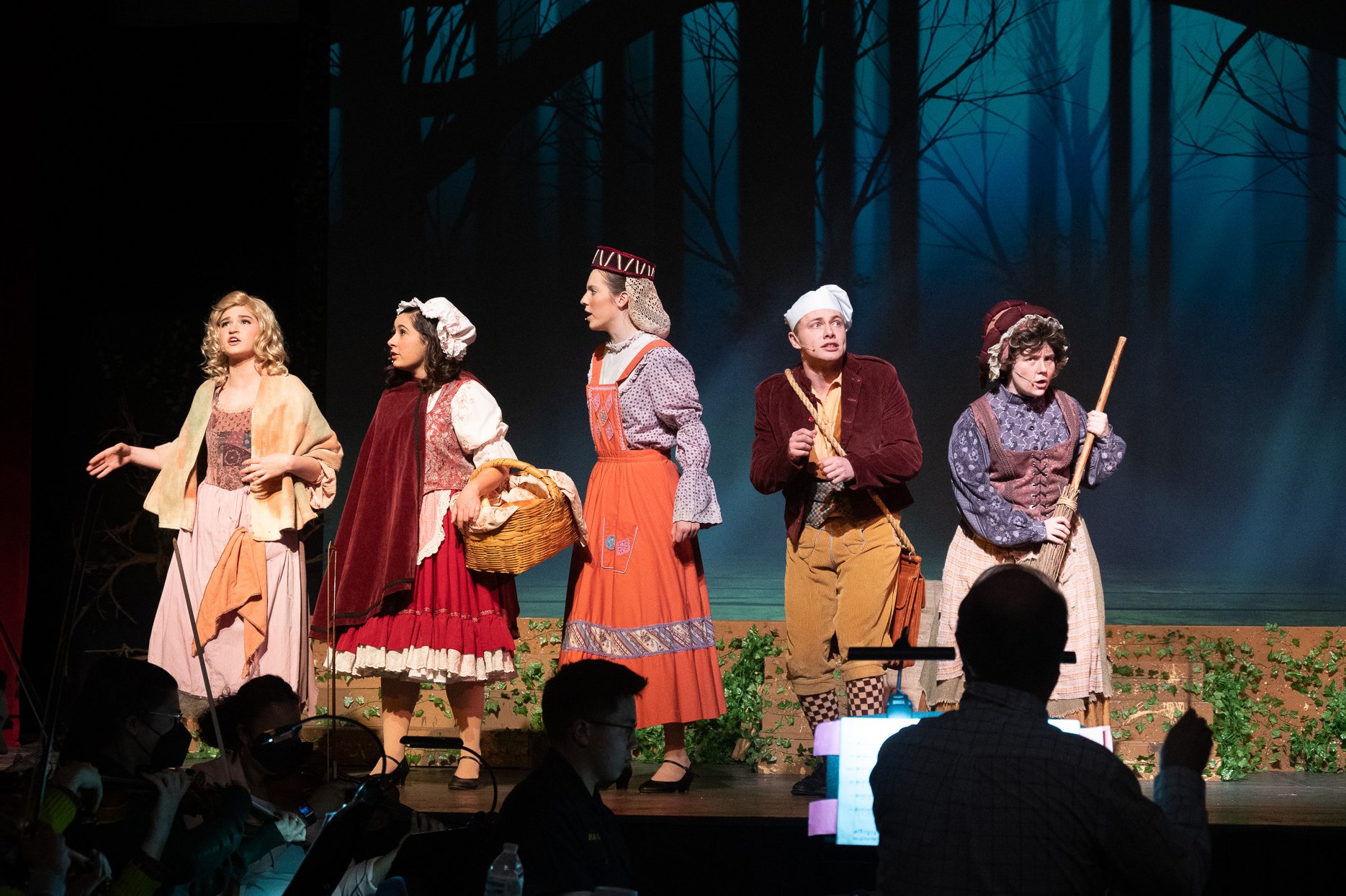 It's quite a production, and just one of an impressive array of musical performances that the Musical Activities Department puts on each year. As one example, the chapel-packing Halloween/All Saints' Day Concert owes its years-long success to the talents of the midshipmen and staff from this department. When added to the traditional book musical performed each year, these concerts and shows draw around 10,000 fans.
That's just the beginning. Through the mix of ensembles in the department, ranging from the USNA Glee Clubs to the USNA Gospel Choir to Trident Brass to many more, midshipmen will participate in about one hundred other music performances that will be enjoyed by over a million people in person and millions more on television each year. This musical tradition dates back to the early days of the Academy and now includes around 1,000 talented midshipmen musicians.
Related: The USNA Masqueraders Bring a Legend to Life.
Into the Woods: Fairy Tales with a Twist
The show was originally produced for Broadway in 1987, ran for a time in 2002 and just enjoyed a successful comeback in July 2022. The midshipmen are excited to bring it to the Yard. Their cast is large, with 22 midshipmen and about the same number managing the tech side; there is also a live pit orchestra providing the instrumentals. Hissong says, "The immense collaboration towards a common goal is incredibly exciting. Into the Woods is a show where every character carries significant moments of the story." While each is integral to the play, some of the more prominent roles are the Baker (MIDN 1/C Harry Schlatter) the Baker's Wife (MIDN 4/C Allison Boertlein) the Witch (MIDN 1/C Annabel Powers) and Cinderella (MIDN 2/C Sarah Myers) just to name a few. While many of these seem familiar enough Grimm fairy tale characters, the musical takes them into unfamiliar territory as they cross into the woods, each with their own wishes to be fulfilled.
It is a mix of comedy and tragedy, light and darkness. Act One follows the Baker and his wife, who have been cursed by a witch that is furious at the Baker's dad for stealing her magic beans years ago. She has made the Baker's entire family tree barren, including his wife—when all they wish for is a baby. To reverse the curse, the couple must go on a hunt for four elusive items: a braid of yellow hair, gold slipper, red cape and white cow. Thus begins a twisted journey intersecting with Rapunzel, Cinderella, Little Red Riding Hood and Jack and the Magic Beanstalk, all characters who get their wishes granted in the first half of the show, just as fairy tales end with "happily ever after."
In the second act, however, a giant wreaks havoc on the kingdom, and the characters must work together to "become a community, submerge their individual wishes into a community wish and, thereby, save the world, so to speak," Sondheim explains. It's an ending that's happy but tinged with the bittersweet reality of a fairy tale in real time. With Sondheim's brilliant score that seems to capture every mood, the play is a walk through the woods that will move you.
Playing Hard and Performing Harder
You'll also be wowed by the midshipmen's performance. They've come a long way in a short time, having conducted auditions at the beginning of November and then squeezing in a few music rehearsals before the Brigade left for Winter Break. "With the difficult nature of the material, we've really challenged this cast. Watching them not just meet the challenge, but deliver complete and nuanced performances is always the most memorable and gratifying moment in rehearsals. Of course, we have a ton of fun along the way, but it's all in support of putting up an excellent show," says Hissong.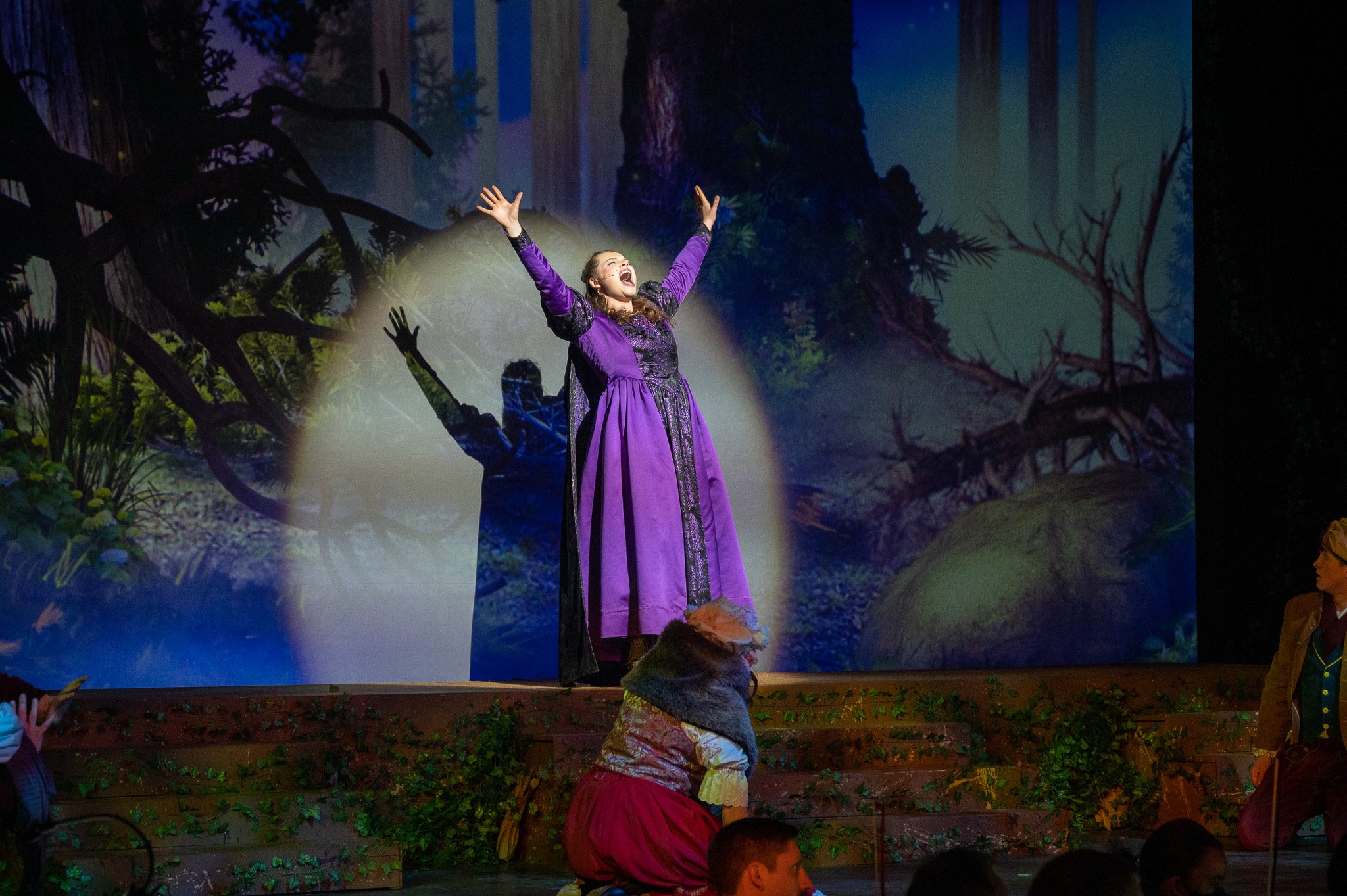 Hissong himself has a long and exciting career in theater. He graduated from the University of Michigan with a BFA in Musical Theatre and promptly moved to New York City, where he had the opportunity to perform lead roles that took him all over the world and throughout the country. He has performed on a Broadway stage with James Earl Jones and Arthur Miller, and he also took over the role of Tony in the International Tour of West Side Story in Beijing (after less than a week from being cast in New York). "I've been very fortunate to live my dream," Hissong says. Married to performer Jodi Hissong, the couple decided to switch roles when they started their family. "We transitioned to the other side of the creative table as director and choreographer, opened a production company in Maryland, and that's what led me to directing for the Academy eight years ago," explains Hissong. It's been a fruitful tenure, and he's excited for what's to come.
Venture into The Woods!
This show opens tomorrow, and it won't disappoint. These Naval Academy musicals are known for the depth and breadth of midshipmen talent. They apply the same dogged determination and perseverance from being part of the Brigade to making the show shine, and you can feel the magic. "It will knock folks' socks off," says Hissong. If you haven't seen a musical at USNA, you would never believe how spectacular the shows are. So much of what it takes to be a successful midshipman is what it takes to be a successful performer: Discipline, dedication and preparation. I recommend getting your tickets immediately. If you wait much longer, there definitely won't be any seats left!"
You can purchase tickets for the Naval Academy winter musical here. When you come see a show and visit the Yard, you're supporting the midshipmen who put on the show and the entire Brigade. Every tour, meal and shopping experience on the Yard gives to the midshipmen. So come into the woods with us and enjoy the trip. It's a show you've got to see to believe.