When you visit the U.S. Naval Academy, you'll have your choice of a variety of excellent tours, all given by USNA certified tour guides. No matter which tour you pick, you'll get a great experience on the Yard, visiting many of the "must-see" places like Bancroft Hall, the USNA Chapel and the U.S. Naval Academy Museum. You'll also get to hear about the epic sweep of history that envelops this iconic military academy. But there's only one way to get the official USNA scoop from those who are certified by USNA itself, and that's by taking a Naval Academy Tour.



An Authentic Experience
For starters, the experience of touring with Naval Academy Tours brings you behind the scenes to see the Academy from a very unique perspective. Tour guides must undergo a rigorous selection process before they are approved to give you these tours. About 60 guides are certified each year. Once selected by the Naval Academy Business Services Division (NABSD), these men and women receive significant training to equip them to give a tour. There is a common misconception that they're volunteers, but they are actually federal employees working for NABSD. Each tour guide must be recertified annually to maintain their status.

These steps are taken to ensure the tours are 100% accurate and reflective of what today's Brigade is experiencing. To this end, NABSD brings in several expert speakers throughout the year to the monthly staff meetings to brief tour guides on timely and relevant topics. Ranging from historians with naval heritage who provide important context, to the Dean of Admissions, who gives briefings on the most recent status of USNA applicants, their knowledge is invaluable.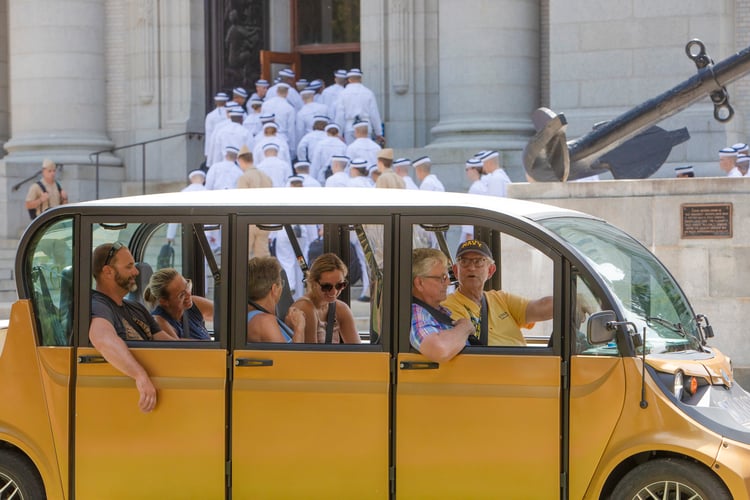 Heather Skipper, Hospitality Sales Manager for NABSD, is constantly inspired by the tour guides, who bring a wealth of experience and tremendous passion for the Academy to the Yard, "it's a mix of talented individuals who come to the Academy to share the story of our history, our heritage and also a day in the life of the current midshipmen. Many have personal connections to the history and the story of the Academy that bring it to life. We have retired graduates and alumni of the Academy, and several retired career military officers from the Marine Corps and the Navy. We also have a large number of sponsor parents…as well as a lot of folks who have a love of sharing the story of the Academy who live locally and have personally experienced it over the years." Armed with insider experience, tour guides share real Navy stories and get to the heart of what it's like to be a midshipman in this moment. These are the stories and information you simply can't find on other tours.




Sights Behind the Scenes
While visitors are allowed to visit the Yard from sunup to sundown, Naval Academy Tours are the best way to see the sites. They're also the only tours provided seven days a week. The popular 90-minute Historical Walking Tour will hit on many of the most prominent sites of the Yard, starting with the Armel-Leftwich Visitor Center, and taking visitors past the mascot of Bill the Goat, historic Dahlgren Hall, onto one of the world's largest dormitories - Bancroft Hall, into a sample Midshipmen room, up to Memorial Hall and over to the USNA Chapel and down below to John Paul Jones' Crypt. Completing the tour at 1845 Gatehouse for a special treat or refreshment while standing inside the Yard's oldest standing structure.

Naval Academy Tours go far beyond these spaces, though. For private group tours and special requests, they can travel off the beaten path, both on foot or with their comfortable GEM five-seaters — electric vehicles that can cover a lot of ground. This is a huge advantage over many tours, as visitors can travel out to the USNA Cemetery and see popular grave sites, including Senator John McCain's. Alternatively, sports enthusiasts might tour the impressive Ron Terwilliger Center for Student Athletes.
Tours can be customized for each group's needs, even to spots off limits for other tour operators. "Ship and flight simulators allow our tour guides to take the helm quite literally to learn about seamanship skills and flight instruction," notes Skipper. These are experiences that lend well to the corporate leadership program for groups that are seeking key takeaways from the daily leadership training our Brigade receives.


Admissions Help
When you take a USNA Admissions Briefing and Walking Tour, you'll have the benefit of meeting with a tour guide that has had experience working on the Admissions Team, and can provide an inside look at the application/admission process. We recommend potential midshipmen take these tours to get the full picture of what it takes to get into the Academy, starting with the "Go Navy, Beat Army!" rallying cry.


Tour With Us
Last but not least, when you take a Naval Academy Tour through NABSD, you're also giving to the midshipmen. No other tour operators do this. All of our proceeds go right to the Brigade, to provide extracurricular activities such as club sports, music and theater programming, cultural clubs, and much more. Not only do tours help support the Brigade, but if you stay for a meal or snack, or make a purchase in our U.S. Naval Academy Gift Shop or buy online at Navyonline.com, you'll be supporting the midshipmen as well.

We offer a number of fascinating experiences, from tours of the incomparable Jewish Chapel and Levy Center, to the special "Anchors Aweigh" Music Tour exploring our musical history and long-standing connection with Charles A. Zimmerman, to USNA Tour and Tea at the U.S. Naval Academy Club, to pretty much any customized tour you can dream up. We look forward to helping you experience the Yard in the most authentic way possible. Book a tour today and visit USNA in a way no other tour can!