"Anchors Aweigh" was charmed from the start. The first record states that it was performed by the Naval Academy Band as the Class of 1907 marched to take their seats during the Farewell Ball on February 12, 1906. The first public performance took place before a much larger crowd later that same year at Philadelphia's Franklin Field, where the Naval Academy faced off against West Point for their annual gridiron grind. With the new class song played by the Naval Academy Band and sung by Midshipmen, Navy defeated Army 10-0, winning for the first time since 1900. It was cemented then: The Class of 1907 loved their song and became the "Anchors Aweigh Class." Since then, it's become the musical signature of the United States Navy and one of the most recognizable melodies in the world.
Zimmerman's Touch
It's no surprise that the "Anchors Aweigh" was an instant hit. It was composed by Navy's beloved Bandmaster and Music Director, Charles A. Zimmerman, and its rousing lyrics were written by Midshipman Alfred Hart Miles, Class of 1907. Zimmerman had a long and fruitful relationship with the Naval Academy. His talent for music ran in his blood. He was born to Naval Academy Bandsman Charles Z. Zimmerman in 1861 at Fort Adams in Newport, Rhode Island. The elder Zimmerman served in the band while the Academy was relocated North during the Civil War. The younger Charles didn't waste any time following in his father's footsteps. Two of his mother's cousins also played in the band, and his brother became the leader of the Old Soldiers Home Band in Washington, DC.
As a young child, he first learned music at home with his father and with musician friends of his family. He attended the Peabody Institute of Music in Baltimore and joined the Naval Academy Band as a third cornetist on July 1, 1882. Five years later, at the young age of 26, he took over the bandmaster post from retired Peter Schoff. Zimmerman was the youngest person ever to lead the Naval Academy Band; he went on to serve as director from 1887 until 1916. Zimmerman was so entrenched in the band, in fact, that he refused the coveted spot of U.S. Marine Band Leader (a post formerly held by John Philip Sousa). He had risen to national prominence when he conducted a 120-musician orchestra for President Grover Cleveland's inaugural ball in 1893. Instead of assuming the responsibility and pressure of conducting the Marine Band in Washington, DC, Zimmerman chose to stay as leader of the Naval Academy Band.
How the Song "Anchors Aweigh" Was Launched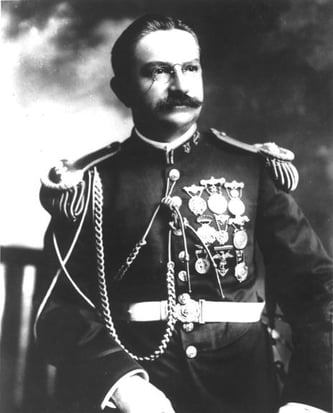 Compose he did! Zimmerman's career stretched for decades. Every year he composed a new march and dedicated it to the graduating class. When Midshipman Miles spoke to Zimmerman after choir rehearsal, he told the bandmaster that his classmates "were eager to have a piece of music that would be inspiring, one with a swing to it so that it could be used as a football marching song, and one that would live forever." With this directive, Miles and Zimmerman sat at the Chapel organ and created the legendary song. Zimmerman composed the tune, and Miles came up with the title and the first two stanzas of lyrics. Miles was inspired to use "Anchors Aweigh," a common naval term signifying that a ship's voyage is beginning as the anchor is hoisted. The two men dedicated their march and two-step "Anchors Aweigh" to the Naval Academy Class of 1907.
It Was a Hit
Since there were vacant officer billets that year, the class tiered their graduation into three sections, starting in February 1906. This first group of graduates celebrated with their Class Supper in October 1905. It's speculated that "Anchors Aweigh" was likely unveiled then, although no record of this exists. It was played at Zimmerman's Annapolis residence for small groups of Midshipmen and famously made its large-scale debut as the Midshipmen beat the cadets on that fateful December day.
The song was so popular that Midshipman Royal Lovell, Class of 1926, added a third stanza. George D. Lottman also wrote verses that were sung until 1997 when Master Chief of the Navy John Hagen slightly updated the wording to be more inclusive of all naval personnel. Over the years, it has been the strong, energetic backdrop to countless Navy wins and celebrations.
"Zimmy," as he was affectionately called by the Midshipmen, continued his successful career, capturing the hearts of the Brigade. On April 12, 1910, he became a Second Lieutenant in the United States Marine Corps under an act of Congress that made the band a regular Navy unit with forty members and a leader. He wrote class marches every year and performed innumerable concerts. He directed the choir and played the organ. He even worked with the USNA theater group, the Masqueraders, who still perform to this day. The iconic Zimmerman Bandstand Gazebo in the heart of the Yard is named for Zimmy and his contributions.
The legendary bandmaster died of a brain hemorrhage on January 16, 1916, and received a full military honors funeral. He's currently buried at the USNA Cemetery under a large granite cross monument that was "Erected by His Midshipmen Friends." Even after his death, his song lives on. "Anchors Aweigh" achieved mass-market success on June 9, 1920, when Columbia Gramophone Company produced a record with "Anchors Aweigh" and Adolph Torovsky's "March of the Middies." (Torovsky was Zimmerman's Assistant Director before he became Director of the Naval Academy Band after Zimmerman's death.) While no original manuscript score of "Anchors Aweigh" has been located, the oldest manuscript is a full band arrangement by First Lieutenant Adolph Torovsky, USMC, dated 1926; it is housed in the U.S. Naval Academy Archives.
Here are the rousing Anchors Aweigh lyrics:
Original Lyrics by Midshipman Alfred H. Miles (1906)
Verse 1
Stand Navy down the field
Sails set to the sky
We'll never change our course
So Army you steer shy-y-y-y
Roll up the score, Navy
Anchors Aweigh
Sail Navy down the field
And sink the Army, sink the Army grey!
Verse 2
Get under way, Navy
Decks cleared for the fray
We'll hoist true Navy Blue
So Army down your grey-y-y-y
Full speed ahead, Navy
Army heave to
Furl Black and Grey and Gold
And hoist the Navy, hoist the Navy Blue!
Verse 3 added by George D. Lottman (1926)
Anchors Aweigh, my boys, Anchors Aweigh.
Farewell to college joys, we sail at break of day-ay-ay-ay.
Through our last night on shore, drink to the foam,
Until we meet once more:
Here's wishing you a happy voyage home.
Revised Lyrics of 1997 by MCPON John Hagen, USN (Ret)
Verse 1
Stand Navy out to sea,
Fight our battle cry;
We'll never change our course,
So vicious foe steer shy-y-y-y.
Roll out the TNT,
Anchors Aweigh.
Sail on to victory
And sink their bones to Davy Jones, hooray!
Verse 2
Anchors Aweigh, my boys,
Anchors Aweigh.
Farewell to foreign shores,
We sail at break of day-ay-ay-ay.
Through our last night ashore,
Drink to the foam,
Until we meet once more.
Here's wishing you a happy voyage home.
Verse 3
Blue of the mighty deep:
Gold of God's great sun.
Let these our colors be
'Til all of time be done, done, done, done.
On seven seas we learn
Navy's stern call:
Faith, courage, service true,
With honor, over honor, overall.
Listen to this exciting song, and see it come to life on the Yard. We offer a special "Anchors Aweigh" Music Tour tracing the life of Charles A. Zimmerman, the story of the Naval Academy Band, and the trajectory of this famous song. Explore this fascinating history in the place where history is unfolding every day. When you visit, you'll be helping the Midshipmen who help protect our freedom. Proceeds from tours, restaurants, and shops go to the Brigade. Come hear how "Anchors Aweigh" helped build the Academy and build up the Navy — and see where it all started!