When it comes to Annapolis dining, The Alley Restaurant, a hidden gem in the lower level of the Naval Academy Club (NAC), is one of the best spots to experience local cuisine. The NAC recently received some elegant renovations, giving it a lighter and more modern look and feel, but The Alley, holding onto its traditional and handsome club atmosphere, remains as strong a draw as ever. Named for the bowling alley that entertained officers when the space housed an Officer's Club in the early 1900s, it still retains a vintage "observe foul line" light for a kitschy vibe, but the atmosphere is 100% casual upscale, all the time.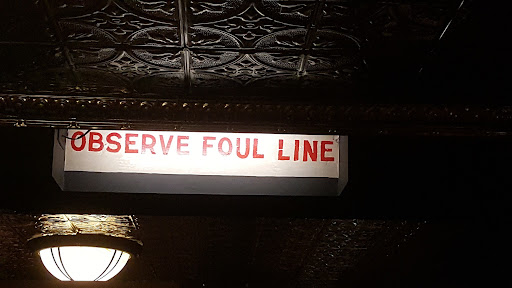 USNA Alley Restaurant: A Bit of Background
In 2009, The Alley underwent a large-scale renovation of its own and now features comfortable club seating that's beautifully accented by wood-paneled walls and punctuated with stunning naval art. For the past three years, Executive Chef Randy Pyren and his team have been hard at work creating incredible, local-inspired dishes, maintaining the food and flavor that has made this a popular and award-winning dining destination for years. He also oversees other Naval Academy dining institutions, including the Drydock Restaurant in Dahlgren Hall (featuring the best-in-town pizza) and Naval Academy Catering, which provides unparalleled service and cuisine for events within the NAC and elsewhere on the Yard.
As a part of the Naval Academy Club, the Alley Restaurant is open only to the public for certain meals. Their current hours can be found at navalacademyclub.com.
Local Cuisine: Savor the Location
Whether on tour, visiting your midshipman or taking a lunch break, stop by for a treat. Here are just a few of the items to tempt your tastebuds: a divine tomato caprese starter, a silky cream of crab soup, flavorful crab cakes, a melt-in-your-mouth salmon BLT and plenty of other fresh, seasonal choices.
For members, the dinner menu features fresh Maryland cuisine, including the local blue catfish. You can feast on savory filet mignon au poivre, juicy Airline chicken breast, the famous Alley burger and more, including a chocolate mousse crafted from decadent Callebaut Belgian chocolate. Don't forget to partake in the fully stocked and beautifully appointed bar, which is open to club members for happy hour and dinner, as well as any time the restaurant is open.
Holiday Happiness: Creating Memories Year Round
Chef Randy and his team also create members-only menus, designed for special days and enhanced by thoughtful three-course prix fixe selections. A recent Mardi Gras evening menu featured three-course options like shrimp-okra hush puppies, blackened chicken and king cake. A Cinco De Mayo themed night brought a three-course menu with bay scallop and shrimp ceviche, coffee-crusted flat iron steak and chocolate plantain brownie, among other mouthwatering choices. The Alley also offered special member menus on Halloween, Members' Holiday in early December, Valentine's Day, St. Patrick's Day, Easter Brunch, Mother's Day and Father's Day.
Members enjoy other events as well. The restaurant regularly hosts Sunday brunches, Prime Rib Nights, Oktoberfest Nights and their famous Lobster Night, which happen a few times each year. Lobster Night includes such delicious options as Eastern Shore fried oysters, seafood bisque, steak, chicken, mixed berry 'Daiquiri' Napoleon and of course a filet and tail or entire succulent lobster. During football season, there are tailgate parties on Friday nights to kick off the weekend. Throughout the year you can come to the Alley to make each celebration special.
NAC Membership: Get the Perks
The best way to enjoy The Alley is as an NAC member. When you join the Naval Academy Club, you unlock happy hours, dinners and wonderful themed meals throughout the year. You also get other perks, including access to the NAC event facilities, premium catering, club events like wine pairings, shopping privileges at the Midshipmen Store, discounts at Navyonline, discounts for lunch and more. If you have a midshipman at the Academy, it's also a wonderful place to spend time with them.
There's never been a better time to be a part of the NAC (must meet eligibility requirements to join), especially with so many tantalizing options at The Alley. Take advantage of this opportunity and enjoy the perks that come with membership. You'll also help the midshipmen, since 100% of the NAC and Alley profits goes right back to the brigade. Chef Randy and his team are always dreaming up new themes, so check the site regularly for updated menus, specials and times, and make a reservation today!
If you are uncertain if membership is right for you, you can get a taste of it on the USNA Tour and Tea tour. Along with learning some wonderful history about the Academy, you'll enjoy your afternoon tea with some scrumptious snacks at the Alley! Regardless, NAC member or not, there are myriad wonders to taste at the Alley—we hope to be serving you soon!