Stop into the USNA Gift Shop when you visit the Academy. This premier shopping destination in Annapolis, Maryland is housed in the Armel-Leftwich Visitor Center near Gate 1, in a beautiful space overlooking Spa Creek.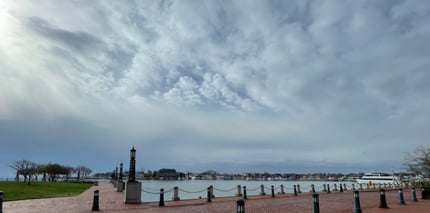 The soaring windows are bright and airy and the shop is stocked to the brim with merchandise themed around the United States Naval Academy (USNA), United States Navy (USN), United States Marine Corps (USMC) and Annapolis. Enjoy yourself while admiring this delightful view as you purchase a souvenir of your special day on the Yard.
Gift Shop Manager Danielle Vaughn, who has been an integral part of the shop for the last 22 years, explains that "It is the gift shop for people visiting
the Naval Academy, but we also have two other sections, one which offers military items and one that is specific to our hometown, Annapolis."
Special Offerings:
Commemorate your pride in all things Navy. The Gift Shop offers a myriad of clothing items including sweatshirts, tees, shorts, jackets, and even onesies! They also offer wonderful and useful accessories like hats, belts, umbrellas, mugs, and water bottles. For jewelry, games, plush Bill the Goats and pillow pets, and a boatload of other nautical-themed items, complete with authentic crests, logos, and mascots, the Gift Shop is your one stop shop!
Get ready for firing up the barbecue with the wildly popular General's Hot Sauces, stored in grenade-shaped glasses. Don't forget the flyover—a much anticipated moment of Commissioning Week. As the iconic Blue Angles make their return for Commissioning Week kids of all ages are sure to enjoy the space toys and pull-back Blue Angels.
Vaughn also recommends exploring the variety of themed books. The ever-popular The Naval Academy Candidate Book and Reef Points are available. The children's book collection, focusing on STEM topics that are important to the Academy in particular, is increasing and ever-expanding. History comes to life through this wonderful and thoughtful collection of good-reads.
Be a part of the Brigade! The Naval Academy Gift Shop offers customized items that you won't find anywhere else. These items reflect upcoming events, like the "Plebe No More" shirt made for the Herndon Climb in May, Blue Angels, Beat Army, varsity and club sport tees and more! You'll fit right in on the Yard and you'll be showing your support for the midshipmen, too!
Authentic merchandise from the Gift Shop also make great gift options for family and friends, especially when paired with tax-free shopping and free shipping of purchases over $100 via FedEx! Additionally, military and Naval Academy Club members receive special discounts! You can also find drinks and snacks to keep you fueled up for tours of the Yard - a must do for all visitors!
USNA Gift Shop Hours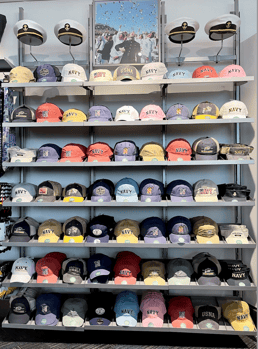 Come on over and see the goods that do good for our Brigade. Here are the USNA Gift Shop hours:
January - February:
Monday - Friday, 9:00am-4:00pm
Saturday - Sunday, 9:00am-5:00pm
March - December:
Daily, 9:00am-5:00pm; they stay open later for football games
There are two other shops at the Academy, the Midshipmen Store (open to the midshipmen and their families, faculty and staff, Blue and Gold officers, alumni and several other groups), and the online store, Navyonline.com. If you can't wait to get to the Gift Shop, you can purchase some of the same items on Navyonline.com now!
However, a trip here is worth your time. Come check out the latest shipment of U.S. Navy apparel, USMC apparel, USNA merchandise and Annapolis goodies as you hunt for Easter gifts, seek out spring break clothing or look for a spring wardrobe refresher. While the space is beautiful and inviting, the best part is that the Gift Shop gives 100% back to the Brigade. When you shop here, you're supporting the midshipmen too. Come shop this not-your-average gift shop soon!