Did you know that the USNA Masqueraders have been performing for and inspiring audiences since 1846, just one year after the Academy was founded? Back then, they were a bunch of young midshipmen that wanted to put on a play to "civilize" the city of Annapolis. Unfortunately, that didn't quite happen. Buoyed by their success in the first act of The Lady of Lyons, performed outside in downtown Annapolis, they started popping bottles of champagne (a bit too early). By the time they were back for the second act, the show's quality had deteriorated considerably, but a legend was born.
Naval Academy Theater Gets Its Start
Fortunately for all of us, that didn't deter the group. They went on to build a rich history entertaining the people of Annapolis, as well as midshipmen and faculty. Over the years, the group has weathered hiatuses due to their service in the Civil War and times when they were in trouble with the Commandant. Yet, in the fall of 1907, they solidified their status when Midshipmen First Class Kirkwood H. "Patsy" Donavin, William B. Piersol, Frank W. Townsend and several others conceived of a dramatic society called the "Masqueraders" in Recreation Hall (later Smoke Hall outside of Memorial Hall) and then presented their plan to the Commandant. He approved. They were the first Naval Academy extracurricular activity (ECA), and this coincided with the opening of Mahan Hall, where they still perform today.
The Masqueraders Take on Argonautika
About 20-24 midshipmen participate in the USNA Masqueraders each year, including actors as well as members of the technical team, which manages the lighting, sound, set design, construction, videography and editing, puppets and props, costumes, makeup and hair and publicity. It's a lean group, but they've mastered the ropes. Currently, the group is working to bring us the incomparable Argonautika at Mahan Hall on November 12th, 13th, 19th and 20th at 8pm. This show is Mary Zimmerman's epic adaptation of the Greek myth of Jason and the Argonauts - and it's the culmination of weeks of work. As audience members, we'll get to experience their heroic quest for the golden fleece and explore how the constellations were created. It promises to be an incredible ride.
Christy Stanlake, a professor of English at USNA, arrived at the Academy in 2002 to direct the USNA Masqueraders and teach midshipmen. With a Doctorate from the Ohio State University in Theater, History and Literature, she loves teaching drama and Shakespeare, as well as Native American studies and literature. Stanlake even helped found USNA's Native American Heritage Club, which she continues to mentor.
She selected Mary Zimmerman's adaptation because "we needed something fun and creative that will bring us back together. It makes perfect sense. We're pulling a lot of parallels between the Navy and the first voyage across the ocean." This unusual show is a dramatic way for the USNA Masqueraders to return to the stage. "It's classic literature with a very contemporary bend," Stanlake explains. "It opens up new ways of seeing these classic characters in the present…. It also shows midshipmen at their best - fully immersed in an academic endeavor with their mental, physical and academic efforts all rolled into one. It's great to see how they pull from all of those strengths to put on a production."
Stanlake also praises Zimmerman's work for its innovation. "She takes large epic works of literature and explores with a group of actors to find ensemble-based, physicalized - in actors' bodies and characterization - ways of telling huge stories on stage," she notes. With a cast of only ten playing around 50 characters in about 30 locations, this is an epic feat in itself. The group was inspired by Zimmerman to get creative with their storytelling, employing technological solutions and their own imaginations to bring the story to life on stage. "It's really fun because of the opportunity for creativity," Stanlake says. In one scene, lucky playgoers will get to see fire-breathing bulls do battle with Jason before he faces an army of skeletons. How do you achieve this with only four people, you might ask? You'll have to watch to find out!
A Midsummer Night's Dream Realized

Last spring, the USNA Masqueraders put on Shakespeare's A Midsummer Night's Dream. Due to a period of COVID restrictions, the performers couldn't even leave their rooms, let alone leave the Yard to travel to the
outdoor stage. So they conducted online rehearsals for a month until they could meet again in person to rehearse outside in the parade field gazebo and the new parking garage. They performed Midsummer for a live audience outside. "We wanted to put on a show that was both quality and safe for all, so we had a lot of people working with us to help make that happen," says Stanlake. She credits Colonel Smitherman, Dean of the School of Humanities and Social Sciences, Samara Firebaugh, Associate Provost for Academic Affairs, Michelle Allen-Emeron, Chair of the English Department, Commander Erin Meehan, Associate Chair of English, Captain Homer Denius, Commanding Officer of Naval Station Annapolis, and Bob Froelicher, NSA's Community Relations Director, for their help with logistics and troubleshooting. "It was cathartic and it was beautiful to be outside; it was cold…but you couldn't beat that location, on Retelle Hill with the forest and the water. We filled that hilltop both nights. Granted we were the only thing going on!" she laughs.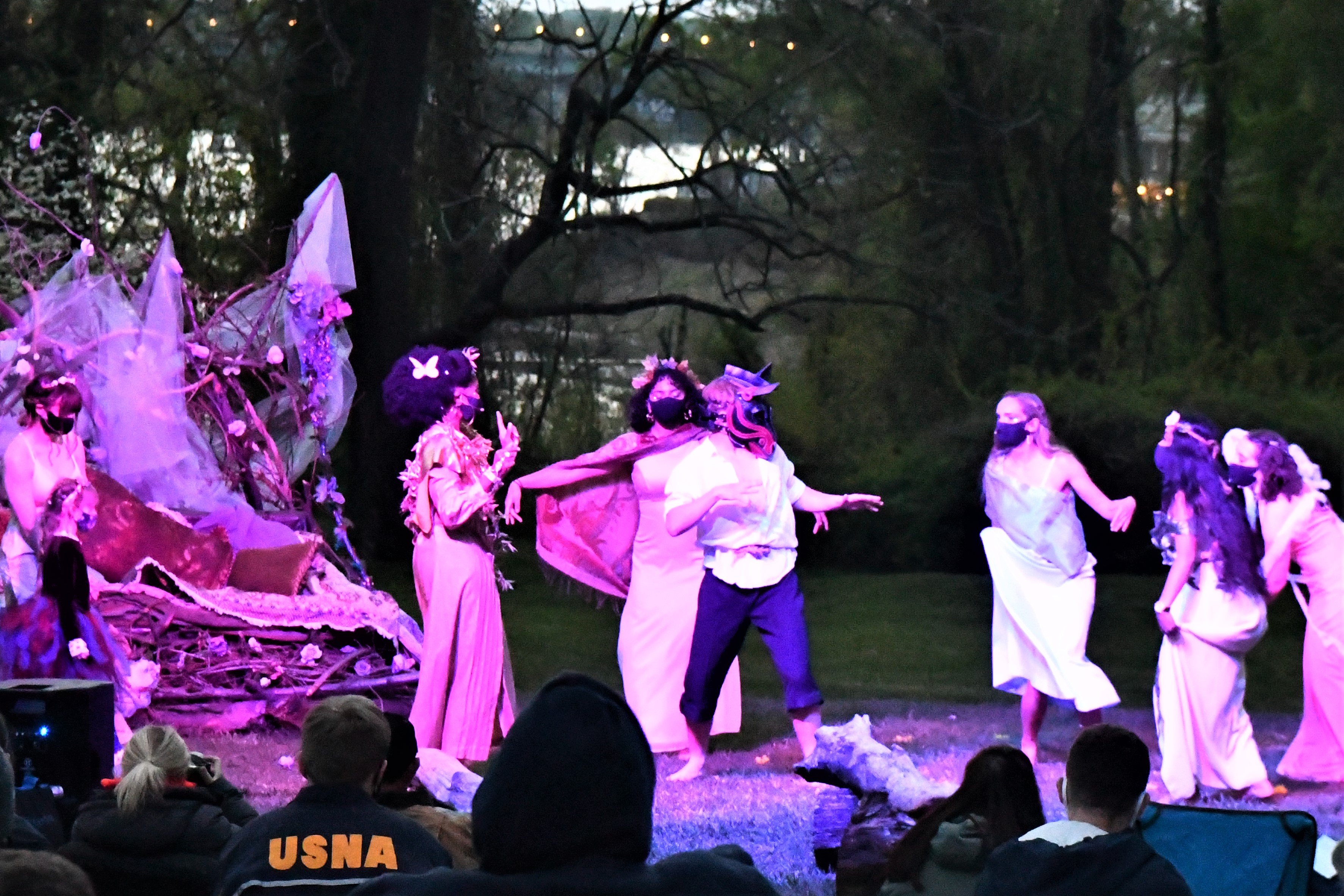 Photo by MIDN 1/C Alex Schuerch
Spring Shows
The group will perform again this spring. They've recently had midshipmen-directed one-act plays that then evolved into an original theater festival. This year, they may mirror their successful outdoor performance of A Midsummer Night's Dream with a work of renaissance theater outside, taking advantage of the sunlight to reflect how these shows would have been performed centuries ago. Or they may perform a piece created by a midshipman, also outside. You'll have to stay tuned to find out…
Don't miss these shows! You can get your Naval Academy Masqueraders tickets here or by calling (410) 293-TIXS. They cost just $15 for non-midshipmen and $7 for midshipmen. Come see this 175-year-old group as they make history at the Academy with Jason and the Argonauts' legendary journey! You can even make a weekend of it and tour the Yard for an incredible journey of your own. The show starts here.