Food Network's popular Chopped show has been running for an impressive 52 seasons. Over the years since its debut in 2009, it has shone the light on talented chefs through a variety of challenging competitions, from "Grill Masters" to "Impossible" to "Sweets Showdown." For the past few months, our military has been battling it out in the Chopped kitchen as the Navy, Army, Marine Corps and Air Force each sent four of their best chefs to compete for a $75,000 prize in Chopped: Military Salute 2023.
The Chef that Won the Navy Competition?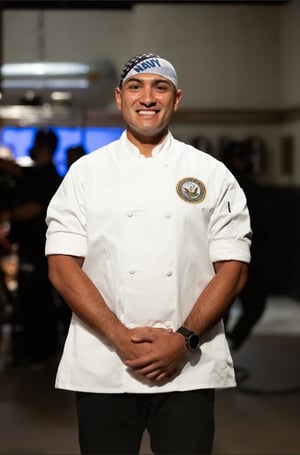 He's no other than our own Culinary Specialist 1st Class Georges Labaki, who was named the 2021 DOD Enlisted Aide of the Year. Culinary Specialist Labaki had a chance to show off his cooking skills starting on April 25, when he went head to head with three other Navy chefs: Seth Chiado, Caleb Abdinoor, and Jazmine Anderson. It was the 24th time in eight years that he tried out for the show, and that ended up being the magic number.
The U.S. Naval Academy is grateful to have a chef of his caliber working in the USNA Superintendent's Residence. Labaki is one of the enlisted aides for the superintendent. He is responsible for taking care of the admiral and his quarters and also oversees the Food and Beverage department. With experience at the Pentagon, Oyamel/Zaytina, the White House, and as the owner of his own food services company, Labaki has proven himself to be an excellent chef. He is also a dedicated Navy sailor, maintaining collateral duties to help develop future officers through various leadership strategies. He serves as a command fitness leader and enlisted representative to the USNA Crossfit Blue and Gold team as well. "I love being part of a long tradition and getting an opportunity to help transition college students into future officers in the Navy and Marine Corps," he says.
RELATED: A Welcoming Home: Superintendent's Residence Highlight
The First Chopped on Food Network Competition: A Navy Battle

Sixteen chefs (with four from each of the branches described) first competed to select one from each branch to represent them in the final. In all Chopped shows, the chefs must work with a "mystery basket" containing pre-selected ingredients that do not usually blend well. In a short time frame, the chefs must create a meal that is delicious, balanced, and well-presented. Here's how the episode featuring Navy chefs played out:

Surprise Ingredients
Appetizer: Navy bean soup, head-on shrimp, bresaola, finger limes

Entrée: Vegetarian taco meat, pineapple, branzino, french fries

Dessert: Navy cake, longan fruit, sea salt ice cream bars, halva




One contestant is eliminated after the judges have evaluated each course. On the Navy show, Seth Chiado was eliminated after the appetizer. Caleb Abdinoor was sent home after the entrée. Jazmine Anderson was dismissed after the dessert, and USNA's Labaki won the competition with his grilled jalapeño shrimp, navy bean soup, curry, and Asian frisee salad appetizer, entrée of seared branzino with a pineapple roasted red pepper relish, vegan taco meat and french fry hash (made from old McDonald's fries) and a Navy cake and java fritter with a sea salt longan fruit ice cream, toasted pistachios, and longan fruit orange liqueur sauce. It was quite an ensemble given the disparate ingredients! With this win, Labaki headed to the final, which pitted the winners from the other military branches against celebrity chefs.
The Final Chopped on Food Network Competition: The Military Teams Up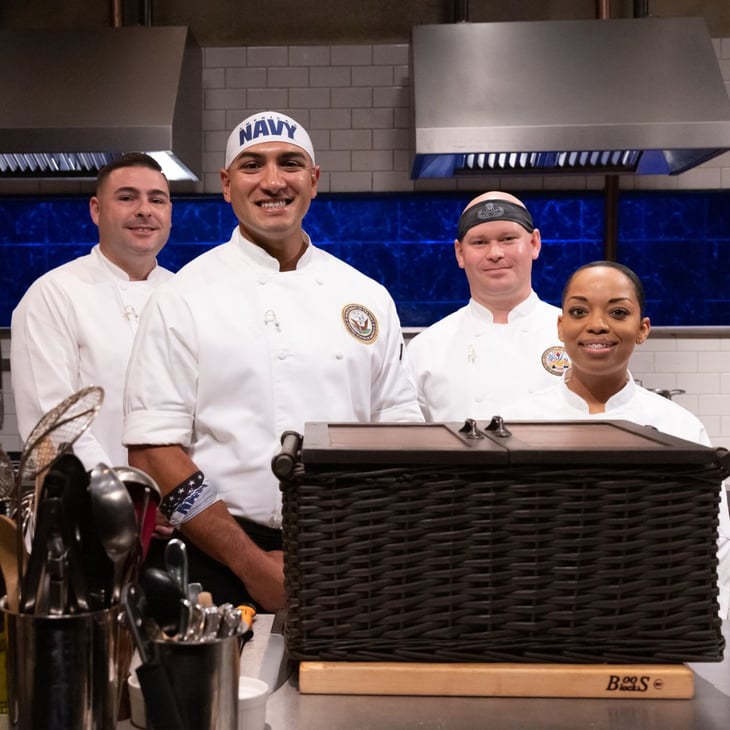 The long-awaited show aired on the Food Network on May 23, attracting a passionate audience who showed great support for our military chefs. The four active-duty chefs worked together to make the unorthodox ingredients sing:
Ingredients
Appetizer: Flag cake, yampi, duck breast, baby artichokes

Entrée: Alaskan king crab, purple spinach, New York strip steak, durian mochi

Dessert: Apple pie à la mode, powdered eggs, star fruit, hot dogs





Chef Amanda Freitag pulled off the win for the appetizer with a seared spring duck with strawberry glaze and shallot crisps, paired with crispy baby artichokes on a potato and yampi purée. This win didn't last long, as the military team claimed victory over rival Chef Eric Adjepong with a surf and turf riff on New York strip, Alaskan king crab, sauces of durian mochi steak sauce, a durian saffron beurre blanc and fried durian mochi. It all came down to the dessert round, where they faced popular Chopped judge Tiffani Faison. The winning dish was an all-American apple turnover with egg white powder créme anglaise and candied starfruit and candied bacon with a chocolate ganache that literally took the cake (or pastry)—for the military chefs and won them the competition. "My favorite part was meeting the judges: I've been watching them for a very long time, and then it was very cool to cook right next to Amanda Freitag," says Labaki. He notes that it was challenging at first to work with chefs from different backgrounds because they all have their own styles, but they teamed up well. "The ingredients were weird but good. To be able to combine and create was an interesting connection between us. We meshed in the second round…. Yeah we were nervous but we needed to come together. I saw the competition as a fun game we're playing," says Labaki.

Icing on the Cake

At the end of the show, they were greeted by a surprise VIP guest when First Lady Dr. Jill Biden came onstage to express her appreciation for their service. She also invited them to cook for her family during the July 4th holiday. "It was a cool experience. I wanted to go and compete with other competitors but to compete with the military and in the Navy capacity specifically was an honor to represent something greater than me and have the opportunity to cook with other military chefs who were very very talented. I had a lot to prove," says Labaki.
There's not much left for him to prove. The military team took home the $75,000 prize, which was donated to Blue Star families on behalf of Task Force Military. Meanwhile, the U.S. Naval Academy has the prize of having Labaki work in the Superintendent's Residence. He also runs his own company, BonGeorges Private Events, and is a private chef in the DC/Maryland/Virginia area. You can experience his cooking at Curate in Annapolis on June 23rd and 24th, where they'll host a special summer pop-up with a locally inspired sit-down five-course meal and special local wine pairing. If you can't make this date, you can try again, as they do it once per quarter.

Navy for the Win!

Go Navy! We are proud of Labaki's composure and skill in the face of adversity and a strict time limit, skills which serve him well in his role as chef at the Superintendent's Residence. We invite you to watch the episode to see how he and his team pulled together some amazing meals from some strangely matched ingredients, all while the clock ticked down. We're also not surprised by the outcome. These service members are adept at facing challenges with grace and skill.

We salute them all and welcome you onto the Yard to see where our Navy midshipmen are training every day to be future naval leaders. Come visit the Yard this summer. When you visit USNA, you're giving to the midshipmen. Every purchase you make at the shops, each meal you enjoy at the restaurants, and each tour you experience around the Yard gives to the Brigade to fund midshipmen's extracurriculars and clubs. Support the midshipmen that support our country, and enjoy your time on the Yard!
Neither the Department of the Navy, the United States Naval Academy, nor any other component of the Department of Defense has approved, endorsed, or authorized any Non-Federal Entity, Company, Organization, or their Products.