Coming for USNA Commissioning Week? This time of the year, the Naval Academy and Annapolis are chock full of extraordinary events that celebrate graduating midshipmen and their commissioning into the Navy and Marine Corps. It's so full, in fact, you won't be able to do everything without being in ten places at once. So we've picked some of the most USNA-iconic events to experience so you can take them all in and enjoy your time on the Naval Academy campus, affectionately known as the "Yard." Here are five can't-miss-events to check out during Commissioning Week, which runs from Friday, May 19, through Friday, May 26, 2023.

Related: 2023 Commissioning Week Schedule
1. Armed Forces Day Concert
On Saturday, May 20, from 6 to 7 p.m., The Naval Academy Band will present a special Armed Forces Day concert at the Naval Academy's Zimmermann Bandstand. Lt. Cmdr. Joel Borrelli-Boudreau will lead the band in an inspiring program of patriotic and popular music in celebration and recognition of the service and sacrifice of active duty U.S. Military Members and their families. Naval Academy Band concerts are free and open to the public, with no tickets required. There will be shuttle services from the Navy-Marine Corps Stadium from 4:30 to 8:30 p.m.
Related: The History of "Anchors Aweigh"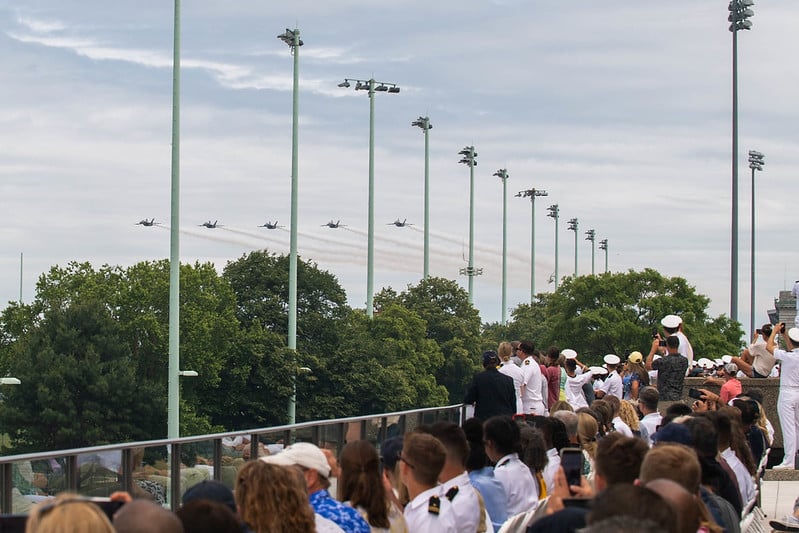 2. Blue Angels Air Show at the Naval Academy
Since 1946, this group of elite pilots has dropped people's jaws to the floor with their gravity defying tricks and precision flying maneuvers, some even coming as close as eighteen inches from another plane. Wielding the striking blue and gold F/A-18 E/F Super Hornets, one of Navy's most advanced aircraft, the pilots travel from spring through fall every year, showcasing the incredible speed and handling of these jets across 30 different locations throughout the U.S. and Canada.

During U.S. Naval Academy Commissioning Week, you'll have several chances to see them, as they practice once before their grand finale — a heart-pumping show above the Naval Academy, Severn River, and Chesapeake Bay. Closing out the week with a brilliant flyover at the Navy-Marine Corps Memorial Stadium to kick off the graduation ceremony. Whether you catch the practice or the real deal, both performances are equally adrenaline-heavy and will make you proud to be an American. Here are the dates and places to catch this awesome flying team:

Tuesday, May 23rd, 11:00 a.m. - 1:00 p.m.: Blue Angels Circle and arrival over the Severn River, 2:00 p.m.: For a flight rehearsal.

Wednesday, May 24th, 11:00 a.m. - 1:00 p.m.: Blue Angels Circle and arrival over the Severn River, 2:00 p.m.: Flight demonstration

Friday, May 26th, 10:04 a.m.: Blue Angels Graduation Fly-over at Navy-Marine Corps Memorial Stadium

Related: Take Off with the History of the Blue Angels.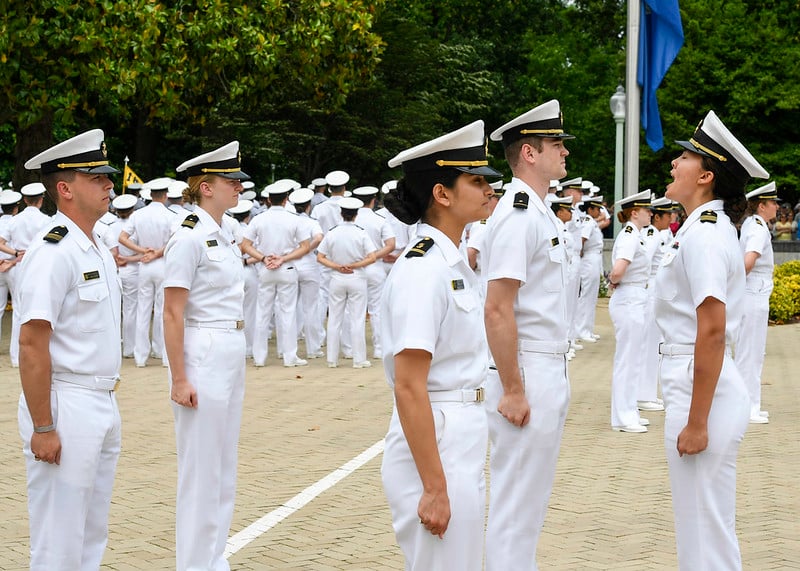 3. Noon Meal Formation
It's fun to watch Noon Meal Formation in the fall and spring, where they occur on the weekdays (minus Wednesdays) – weather permitting. During Commissioning Week, the level is stepped up, as thousands of visitors stream in to experience the week's events.

On Wednesday, May 24th, make sure to get to Bancroft Hall, T Court, early so you can get a good view of this important military tradition. Started as a roll call in the Civil War and adapted for the Naval Academy in 1905, Noon Meal Formation is an impressive show of discipline and training, whereby each of the six battalions announces "all present or accounted for." Then the USNA band plays their uplifting musical selections, "Anchors Aweigh" and the moving Marine Corps Hymn "The Halls of Montezuma," the oldest song in the U.S. Military. Depending on the day, they may play other exciting songs as well. It's an experience that will put a spring in your step for the rest of your day. Head to the Drum and Bugle Corps Concert next to keep the excitement going.

Related: Do Not Miss the Noon Meal Formation!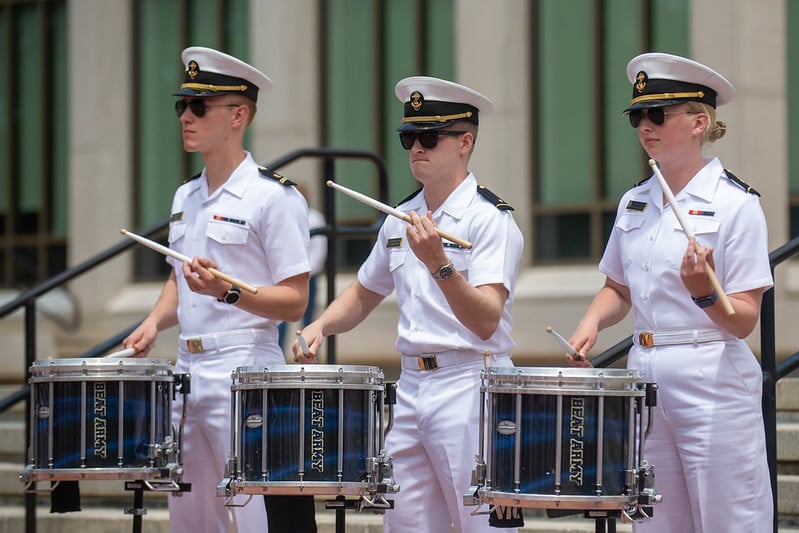 4. USNA Drum and Bugle Corps Concert
On Wednesday, May 24th at 12:30 p.m., a short stroll from Tecumseh Court at Radford Terrace, you can catch the USNA Drum and Bugle Corps making their magic. This extracurricular activity (ECA) has been performing since 1914 when they first burst out of a Navy versus St. Johns College baseball game — and they've been an integral part of many important Navy events ever since.

Each year, the Drum and Bugle Corps takes part in over 200 performances. From Navy football game fight songs and halftime shows to pep bands for many of the sports teams, to parade music or even concerts across the country, they go beyond typical college band music to perform as a military band for USNA, and their beat is infectious.
Under the direction of Dr. Matthew Halligan, with Justin Miller serving as the Brass Caption Head and Zachary Scudlark serving as the Woodwind Caption Head, 100 midshipmen use piccolos, flutes, clarinets, alto saxophones, tenor saxophones, trumpets, mellophones, trombones, baritones, tubas, and of course, percussion to keep the Navy spirit going strong. Come hear their "Beat Army" beat and join in on the fun!

Related: Commissioning Week: Hear the USNA Drum & Bugle Corps and Pipes and Drums.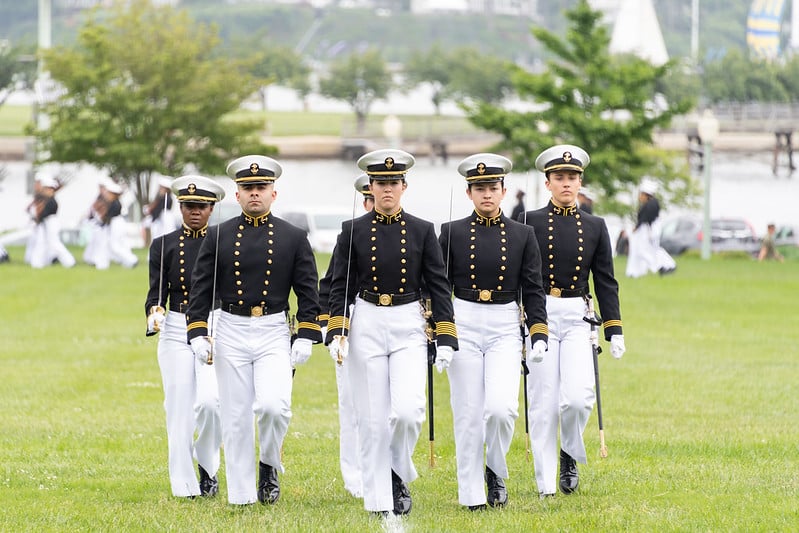 5. USNA Color Parade
On Thursday, May 25th at 11:00 a.m., head to Worden Field for the Color Parade, another must-do at the Naval Academy Commissioning Week. The USNA Color Parade is the formal presentation of the color company pennant by the Superintendent, the Company Commander, and the "Color Honoree" to the recently determined spring color company. Every semester a new color company is named, based on their excellence in academics, athletics, and professional achievements. Harkening back to 1867, this contest engenders friendly competition all year long among the companies and raises the standards for all.

You'll watch as the entire Brigade, in their crisp Dress uniforms, marches in perfect harmony past the crowd. The USNA band keeps time with renditions of "God Bless America" and other patriotic songs. You'll be completely inspired by this time-honored tradition.
Related: USNA Map and Directions.


Time to Kick Off Commissioning Week!

We're getting revved up just thinking about all of the activities that occur during Commissioning Week. After four years of incredible work, it's fun to send the graduating class off with a celebration that continues for days. Come be a part of it and experience history in the making! You can find updated event information here.
When you visit the Yard, you're an integral part of the Brigade as well, helping support them through your tours, dining and shopping. Pick up a souvenir from the Naval Academy Gift Shop to remember this week. All proceeds from our shops go to the midshipmen. Support them with your visit, and enjoy a rousing time on the Yard. Go Navy and Go USA!