Welcome back to the Yard! As your favorite midshipgoat, I'm pleased to lead you on a Naval Academy Yard Gallery Crawl, taking in the scenes and exploring the sights that you can only find here, a place where history has been in the making since 1845. Since the military school was founded on this site 177 years ago, it has grown and expanded to include the small city that is our current Brigade, 4,400+ strong. It has also grown to include a number of incredible buildings that are a joy to behold.
If you're looking for something fun to do in Annapolis during any season, come on a Yard Gallery Crawl. As a good art gallery crawl does with art, you'll experience architecture and history to delight your senses and your spirit.
Start here, at the home of the Brigade. With 4.8 miles of corridors, 1,700 rooms and approximately 4,400 residents, Bancroft Hall is widely known as one of the largest dormitories in the world. It's also known as "Mother B" by the midshipmen. Take a moment to study the façade of this impressive building, which was originally finished in 1906 and later expanded as the Brigade grew to include eight wings total.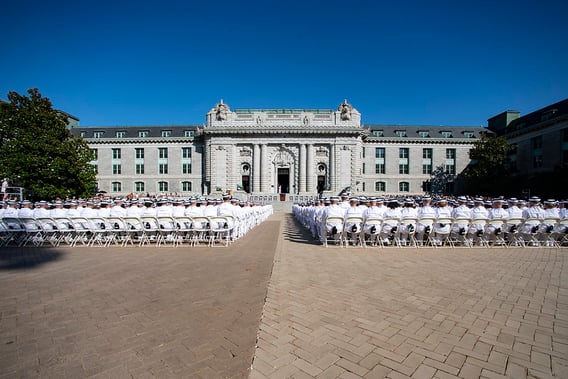 Crafted in the Beaux-Arts architecture that architect Ernest Flagg favored for his "new academy," Bancroft has all the hallmarks of the era, including impeccable symmetry, large arched doorways adorned with cornices and sculptures, a distinctive mansard roof, and a dramatic raised first floor, all to create an air of grandeur and the elevation of the everyday.
Spend some time really looking at the entrance. You'll notice two sculpted battleships that ride on the roofline, protecting all who enter. There's also a set of two beautifully wrought cannons with a verdigris cast that guard the sweeping staircase. If you catch Bancroft Hall just before noon on a weekday in the spring or fall, you'll also see a show of military prowess in the Naval Academy Noon Meal Formation, the highly regimented role call that precedes lunch for the midshipmen before they file into King Hall, which is tucked just inside the entrance of Bancroft Hall. Here's where you'll see history come to life. I get goat-bumps every time!
Adjacent to Bancroft Hall at its 4th and 6th wings is Dahlgren Hall. This former armory looks like a former armory. With soaring ceilings and a large open indoor space, it was an operational armory from 1903-1974. Then, when it became a student activities center, it housed many important functions and events over the years, including (at various times) an indoor drill area, ice rink, basketball court, Weapons Department Laboratory, graduation space, and dance hall.
Even now, one of its hallmarks is the 36-foot wingspanned Wright Flyer suspended over the second floor, which you can see through the magnificent windows.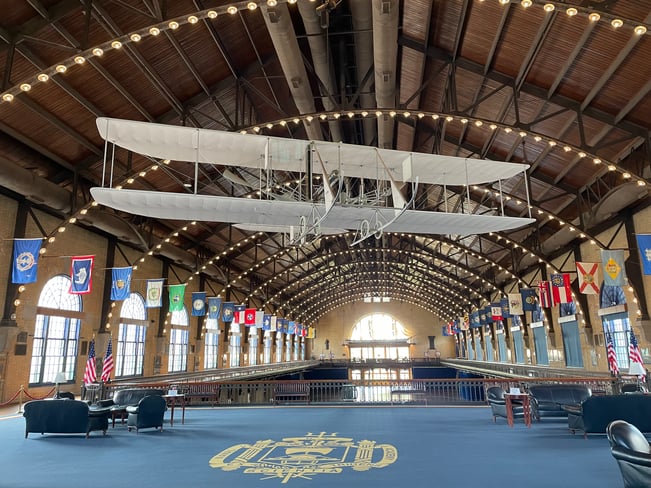 Built in 1903 in the Beaux-Arts style, Dahlgren has a matching architectural bookend in MacDonough Hall, which flanks Bancroft Hall at the 3rd wing, and houses sports like boxing, gymnastics, spring football, water polo and lacrosse. While you're at Dahlgren Hall you can also marvel at some of the rifles, guns, torpedoes and other ordnance decorating the front entrance in Fullam Court.
Next, you can march on over (though I prefer to trot) to the USNA Main Chapel, the heart of Flagg's plan and the spiritual heart of the Yard. Its copper dome was replaced in 2021 and is still developing its patina. This icon can be seen from pretty much anywhere on the Yard. While the chapel was finished in 1908, the nave was extended in 1938 to what we see today.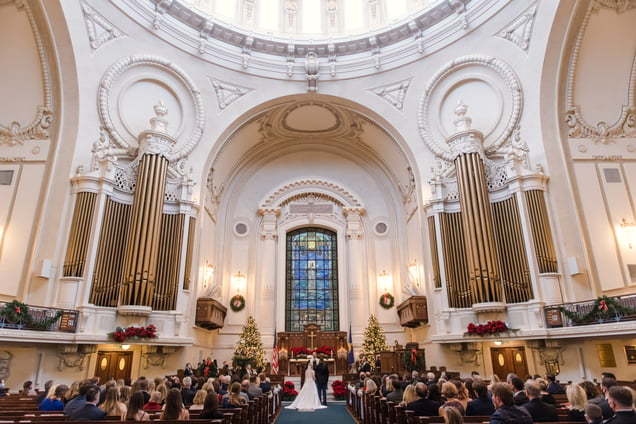 The bronze doors are one of the standout features of this building, and they tell an interesting story. When the building was finished, there was a contest for the design of these doors. Evelyn Beatrice Longman was selected as the winner, but when it was discovered that she was a woman, several of the selection committee members wanted to change their votes. Fortunately for all of us, benefactor Colonel Robert Means Thompson, Class of 1868, refused, and her design lives on today as a gift from that class. Get close up to see the design. It is a wonderful representation of "Invention" with a young seaman holding a torpedo and "Science" with an older instructor—and was restored in 2018 by a gift from the class of 1968 for their 50th reunion gift. The doors were meant to remind midshipmen of their commitment to their country.
A skip, hop and jump away is Mahan Hall, the centerpiece of the three early academic buildings including Maury and Sampson Halls, opened in 1907. With horizontal symmetry, each layer of Mahan is very different, but the design also reflects the Beaux-Arts aesthetic, with many sculptural adornments and arched windows. Originally boasting 47,800 volumes as the USNA's library, the collection was later moved as it grew. Mahan Hall has also hosted plays by the USNA Masqueraders, the Naval Academy's theatrical group, since their inception. See if you can find the central palladium columns with statues on top. One of these beautiful statues is rumored to be one of three nude women depicted sculpturally on the Yard. If you want a challenge, try to find the other two!
There are so many incredible treasures on the Yard. For over 115 years, these buildings have been a part of the living gallery of inspiration. They've played host to countless memories and events for all midshipmen and midshipgoats who've passed through their doors. We honor and respect them for the works of art they are, and the art that they contribute to all of our lives.
Nothing compares to seeing them in person. The Naval Academy offers fascinating tours that go into the intriguing details and stories you won't hear anywhere else. Book a tour and be a part of history. When you take a USNA tour, all proceeds from your visit go directly back to supporting the Brigade. As a service of the Naval Academy Business Services Division (NABSD), every penny you spend goes back to the midshipmen. Come take a tour and enjoy the crawl today!